3 Words to Describe Yourself?
Comments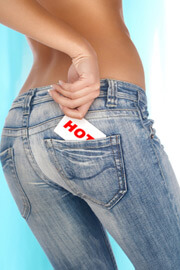 Notice anything different?
I changed my name! "Feminization Secrets" is now "Femme Secrets". ("Femme" just sounds so much prettier, don't you agree?)
I've decided that it's time for an ONLINE IMAGE MAKEOVER and will be revealing even more changes soon.
But my question for you is …
Is it time to makeover YOUR feminine image???
It might not be fair, we're all judged on our images. If you're being misjudged, then it's probably time to update your image.
No, I am not talking about running out and buying a new wardrobe …
I'm talking about first deciding WHAT you want your image to communicate!
Here's a great way to do it:
Choose 3 words that describe your ideal femme self.
Is she:
Sassy, sexy, and unexpected?
Bold, brainy, and beautiful?
Mysterious, stylish, and elegant?
If people are misjudging you, it's probably because there is a disconnect between your inner self and your outer image.
Knowing who you are (or who you want to be) is the secret to creating an image that reflects the TRUE YOU – in the way you look, act, and communicate.
For example, if your femme self is classy, intelligent, and sensuous, you'll know to "just say no" to that crotch length miniskirt. Or if you want to be seen as glamorous, sophisticated, and sexy, but talk like a truck driver, you know you've got some work to do!
Why only 3 words?
Because it forces you to FOCUS on the essence of your feminine image. More than that and the message gets diluted.
So which 3 words describe your femme self?
Please share them with me below!
Love,
Lucille
Related Posts