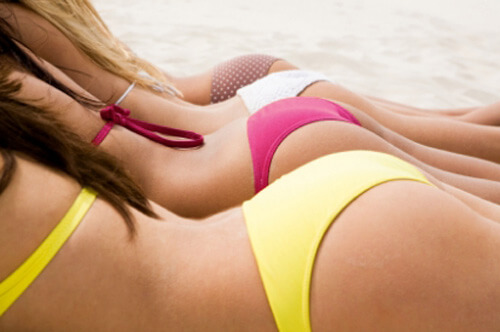 Nothing screams femininity and sex appeal like a sexy, shapely bottom …
So what do you do if you are a crossdresser or transgender woman suffering from "Flat Butt Syndrome"?
Keep reading to discover 4 ways to turn your flat tush into a juicy booty (no hormones, butt implants, or torturous glute exercises required!):
1. Purchase padded panties
You know what they say … If you ain't got it, fake it!
Booty-enhancing panties are all the rage these days, but be warned: Many of them look fake or have pads that can shift around.
Here are 3 top-reviewed padded panties available in small to extra-large sizes.
| | | |
| --- | --- | --- |
| | | |
| BubbleBuns Bikini-Style Padded Panty | Feel Foxy Silicon Padded Panty | Bitty Bum Hipster Padded Panty |
Note: Padded panties can show through thin, fitted garments, so wear them under heavier clothes like jeans (see Tip #3).
2. Wear high heels
There are a million reasons to wear heels and here's another one: High heels force you to arch your back, which makes your booty appear more prominent. For maximum tush enhancement, wear heels that are at least 2 ½" tall.
3. Look for butt-enhancing jeans
The right jeans can make your butt look amazing, especially if you wear them with a great pair of padded panties.
Here's what to look for:
Wear jeans with embellishments or flaps on the back pockets to add bulk to your behind.
Look for jeans that have higher back pockets to make your butt look more lifted. (Pockets that are too low can make your booty look droopy.)
| | | |
| --- | --- | --- |
| | | |
| DO: Back pockets with embellishments and flaps | DO: High pocket placement | DON'T: Low pocket placement |
4. Try ruffled panties
There is something undeniably sexy about ruffled panties. Best of all, the ruffles add much-needed inches to your behind.
While I don't recommend wearing ruffled panties under clothes (the ruffles will bunch and show through), they are a great option to wear in private or for girly photoshoots.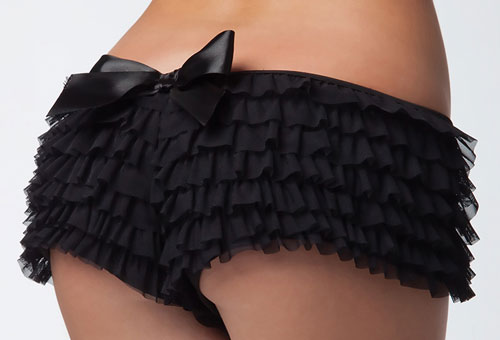 So tell me … Is your BUTT your best feminine asset? (It can be if you try these tips!) Or are you more of a breasts or legs-kinda gal? Take my poll and leave me your comments below!
Love,
Lucille
P.S. I know that your PERSONALITY is actually your best feminine asset, but humor me for the sake of this article. 😉

P.P.S. Ready for even more feminine curves? Sign up for my FREE Secrets to Luscious Curves male to female breast enhancement video course to learn more!

Loading ...
Related Posts