A lot of girls have been asking me for advice in concealing their beards. It's hard to feel sexy and feminine with a visible beard shadow, so let's talk about this!
I also want to cover this topic since I am dealing with my OWN "mustache" situation …
Let me explain!
A few days ago, I had Juvederm injected into my lips for a little extra shape and plumping. I loooove the results. (Seriously, you gotta try this!) The PROBLEM is that the needle hit a blood vessel in my lip and I got a bruise that extends past my mouth to my upper lip. It looks like I have a black and blue mustache!
Fortunately, I've been able to completely conceal it. I even felt confident enough to meet my friends in broad daylight at the peak of the bruising!
| | |
| --- | --- |
| | |
| Bruise "Mustache" Before | Bruise "Mustache" After |
Bruises and beard shadows both have a blue tint that's hard to cover, so my techniques will also work for YOU!
Here are my top 5 beard (and bruise) concealing tips:
1. Use makeup primer
Applying primer before your concealer smooths out your skin and helps your makeup adhere better. This is an important step for TG women since the beard area tends to be rough.
Here are some good makeup primers to try:
Victoria's Secret Airbrush FX Face Primer SPF 20
L'Oreal Studio Secrets Professional Smoothing Resurfacing Primer
Make Up For Ever HD High Definition Primer
Smashbox Photo Finish Primer
MAC Prep+Prime Skin
2. Invest in a great concealer
Don't be cheap when it comes to your concealer. Concealer is the most important makeup item you can buy.
Here are the 7 best beard concealers for TG women:
MAC Full Coverage Foundation
Make Up For Ever Full Cover Concealer
Revlon Color Stay
Max Factor Pan-Stik
Dermablend Cover Crème
Colortration Liquid Cover Makeup
Ben Nye Five O' Sharp
Make sure to get the right color for your skin. If you are trying to decide between two shades of concealer, go for the darker one. Light colors highlight an area and the last area you want to highlight is your beard!
3. Try the red lipstick trick
You've probably heard of this TG trick, but it's worth repeating …
Since your beard shadow has a blue tint, you need to neutralize the color or it will show through under your concealer. The best and cheapest way to do this is with red lipstick.
Dab red lipstick onto the beard area and blend with a makeup sponge until you have a smooth even layer. It should look like you have a slight sunburn.
4. Pat on multiple concealer layers
The next step is to pat on several thin layers of concealer. If you use one thick layer, it's going to cake and smudge off.
Make sure you pat the concealer on, rather than rubbing. If you rub, you'll disturb the layers below.
Set each layer of concealer with loose powder. Don't use pressed powder – it's too thick and will give you a cakey look.
5. Wear bright lipstick
I discovered this last tip when dealing with my bruise "mustache."
Wear a bright shade of lipstick to distract from any remaining shadow. The key is to choose a warm red, pink or coral lipstick shade to contrast with the blue beard shadow. Stay away from plum or purple tones.
Now let's hear from you! I'm sure you've got your own beard concealing tricks to share so leave me your comments, tips and suggestions below!
Love,
Lucille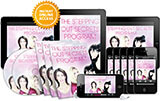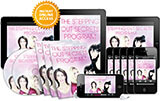 P.S. Are you ready to learn more feminizing makeup techniques? I cover makeup and MORE in my bestselling Stepping Out Secrets Program. Discover everything you need to know to become the sexy, confident women you've always wanted to be!
Related Posts