3 Ways to Boost Your Feminine Sex Appeal
Comments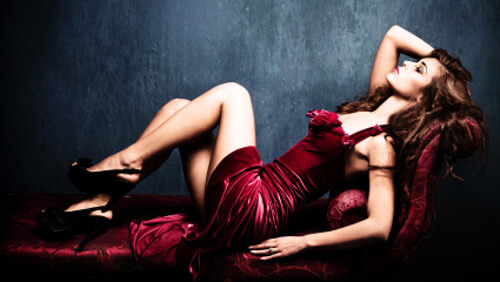 Summer is officially HERE – and you know what that means …
Revealing clothes and bare skin! This is definitely the time of year we girls want to feel our sexiest and most confident.
Keep reading to discover my top 3 tips to boost your feminine sex appeal (without ever crossing the line from sexy to slutty) …
1. Wear red
Color is a huge part of the impression you make on people. Each color has meaning that is communicated on a subconscious level.
Without a doubt, RED is the sexiest color of all!
Red is associated with passion, desire, and love – so wear red to increase your feminine sex appeal. Even a few touches of red (like a red bag or heels) will put you in touch with your sensuous side.
2. Make seductive eye contact
The way you make eye contact communicates your level of confidence, trustworthiness, and sex appeal.
To make your eye contact sexy and flirtatious, look at people from the corner of your eye rather than straight on. (You might have to turn your head slightly to do this.) Hold eye contact for 5 seconds and then look away.
By the way, this tip also works if you look at a camera or look at yourself in the mirror and want to appear more feminine and seductive.
3. Try a sexy workout
Your body movements absolutely broadcast your sex appeal (or lack thereof) to the world.
I've created several tutorials on feminine movement, but one of the best ways to master sensuous moves is to do a sexy workout.
Belly dancing, pole dancing, and cardio striptease are great ways to channel your inner seductress. Best of all, these workouts will transfer over to more fluid, feminine movements in your daily life.
Here are some sexy workouts to try:
So what makes YOU look and feel your sexiest? I'd love to hear your thoughts on this very HOT topic, so leave me your comments below!
Love,
Lucille
P.S. Do you want to know my #1 secret for achieving feminine sex appeal? Develop a sexy feminine mindset! Without a sexy state of mind, you'll never be the sexy, sensuous woman you want to be.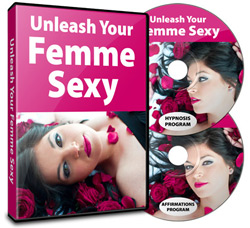 Check out my BRAND NEW "Unleash Your Femme Sexy" Program to discover how to amp up your feminine sexiness from the inside out.
Order now and save 50% during my Special Launch Sale! (Hurry, this offer ends at Midnight Pacific Time on Friday, June 1.)
Click here to grab your copy now!
Related Posts