Archive for Fashion
Whether you are an occasional crossdresser or live as a woman full time, lingerie is a great way to connect with your femme self.
How can you NOT feel totally girly in a pretty lace bra and panties?
But let's face it …
It's hard to hide your flaws when you are practically naked!
Here's how to look HOT in feminine lingerie (even if you have a beer belly and manly hips):
1. Get the right fit
Nothing will destroy your image faster than saggy bra cups or too-tight panties creating a "muffin top". It's impossible to look good in lingerie that doesn't fit right.
Your bra and panties should fit snug, but should never dig into your skin. (That's how you get ugly bulges.)
Be sure to check your bra cups – they should fit smoothly over your breasts or breast forms. Wrinkled bra cups means you need a smaller cup size.
Need help with your size? Check out these Victoria's Secret calculators to determine your correct bra and panty sizes.
2. Flatter your shape
The #1 secret to looking hot in lingerie is to hide your flaws (like a big belly) and highlight your assets (like sexy long legs).
Here are the most flattering pieces for crossdressers and transgender women:
Babydoll lingerie – Babydoll lingerie is sweet and sexy and best of all, it's great for hiding an ample belly.
Ruffled panties – Do you wish you had bigger hips? Ruffled panties feminize your figure by adding fullness to the hips.
Kimono robe – Slip on a sexy kimono to hide broad shoulders. Look for a sheer style so you can disguise your upper body while still showing some skin.
3. Complement your skin tone
Color has a dramatic effect on your appearance (and your mood) so choose wisely.
The most important thing is to choose colors that complement your skin tone. White and black are popular lingerie colors, but they make pale skin look even more pasty. Nude tones and bright colors flatter most skin tones.
Have some fun with this! Choose colors that make you feel sexy, girly, vampy – or whatever aspect of your personality you want to channel that day.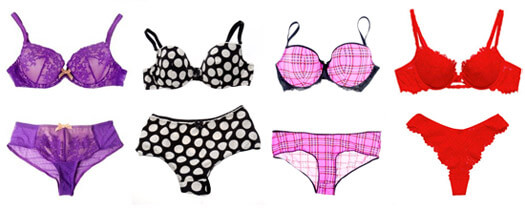 4. Be impeccable with your grooming
Let's face it – there's nothing sexy about hair peeking out of your bra or panties!
If you are going to wear beautiful lingerie, be sure your grooming habits are up to par. Shave or wax regularly and apply lotion daily so you are always prepared to show some skin.
So what do you think, girlfriend? Lingerie is one of my favorite things in the world and I'd love to hear YOUR thoughts. Do you have a favorite piece of lingerie that makes you feel ultra feminine?
Please tell me about it in the comments section below!
Love
Lucille
Sometimes a girl just wants to show off – and what better way to do so then with fabulous, feminine cleavage?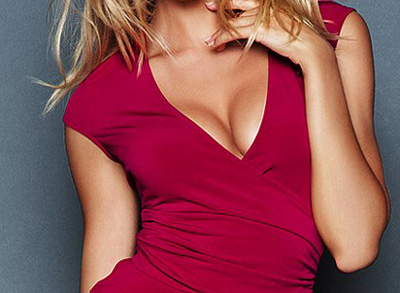 You have 3 options for creating cleavage:
The Nubra is my favorite cleavage creator. It's fast and easy and will give you awesome cleavage – even if you have ZERO breasts!
Here's how to do it: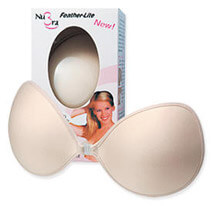 1. Get a Nubra
The Nubra is a backless, strapless "stick-on" bra that adheres directly to the breasts. The cups are attached separately and then clasped, pulling the breasts together to create cleavage.
You can order the Nubra online or find it at Macy's, Nordstroms and other department stores for around $30. Look for the Feather-Lite or Ultra-Lite styles.
2. Prep your chest
The Nubra requires a clean, smooth surface to adhere to. Shave your chest the night before and wash with soap and water immediately before applying the Nubra.
3. Attach the bra cups
Unclasp the Nubra so the cups are separated. Adhere the cups to your breasts, making sure they are positioned symmetrically on each side.
HINT: The further the cups are placed from each other, the more the cleavage you'll be able to create.
4. Connect the clasps
Bending over slightly, pull your breasts together and clasp the bra in the middle. Viola – instant cleavage!
But we're not done yet …
5. Put on a pushup bra and breast forms
Unless you have large breasts, you'll want to add some curves to your cleavage. The Nubra should be worn under a pushup bra and breast forms. Place the breast forms in the outer bottom corners of your bra and tighten the bra straps for extra lift.
And there you have it – sexy cleavage that is begging to be shown off!
UPDATE: A few ladies have asked if this method works if you are thin or don't have much breast tissue. Absolutely! Check out this video I found for a Nubra demo on a skinny girl:
What is YOUR favorite way to create cleavage? I'd love to hear your thoughts, so share your comments (and cleavage photos!) below.
Love,
Lucille
P.S.  Do you want REAL breasts of your very own? My NEW "Flat to Fem Breast Enlargement Program" will show you how to grow feminine breasts without hormones or surgery!