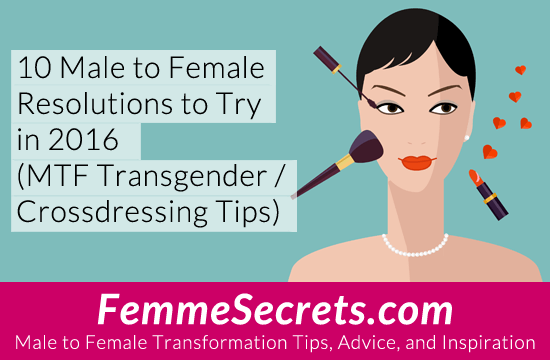 Happy New Year, girlfriend!
Have you thought about how you want to honor and express your femininity this year?
It's not too late to give your femme self a fresh start!
I'd love to know what your resolutions are, so please share them with me in the comments below.
Not sure what to focus on?
Here are 10 male to female resolutions worth trying in 2016:
1. Improve your feminine voice
Achieving a feminine voice is a great goal for the new year. Check out Kathe Perez's YouTube channel for some free resources to get you started.
2. Train your waist
Who doesn't want a smaller waist, flatter tummy, and better posture? Done properly, waist training offers a lot of benefits. The Lingerie Addict has a great guide on the basics of waist training here.
3. Meet new people
It's important to have people in your life who support you. If you lack this, make an effort to get out and meet new people. Thankfully, there are lots of crossdressing and transgender support groups, Meetups, and conferences out there these days.
4. Stop overeating
Maintaining your weight is a big part of looking your best as a woman. It's not just WHAT you eat, but how much. Here are 6 ways to stop overeating.
5. Be more polite
Women tend to be more polite than men, so improving your manners is an simple way to be more feminine. It also makes you more attractive in general! Here are the 10 habits of remarkably polite people.
6. Learn how to dance
Dancing isn't just a great workout… It's also one of the best ways to develop more fluid and feminine body movements. Here are some beginner dance workouts you can do at home:
7. Stop beating yourself up
No matter where you are in your journey, you deserve to love and respect yourself. Do you criticize yourself a lot? If so, it's time to let go of that habit. Here are 5 ways to stop beating yourself up.
8. Take more chances
It's easy to get stuck in a rut and do the same thing day in and day out. It's also depressing! Taking chances (despite your fear) is a great way to build confidence and continue growing.
9. Improve your style
The first thing people notice about you is your clothes. Improving your style can have a huge impact on your feminine image! Check out Inside Out Style for tons of helpful fashion advice.
10. Get more sleep
Are you getting enough beauty sleep? If not, improving your sleep is one of the best improvements you can make for 2016. Here's a fantastic free sleep improvement program from hypnotist Glenn Harold.
What are YOUR femme resolutions for 2016?
I'd love to hear about them, so please share in the comments below!
Love,
Lucille