Hi Everyone!
Today's blog is brought to you by gender free, vegan makeup brand Jecca Blac! We'll be sharing our top tips for feminizing facial features with contouring.
At Jecca Blac, we consider ourselves experts when it comes to male to female makeup transformations. We began with makeup lessons for trans women and those first experimenting with their gender expression – many of whom were right at the start of their makeup journey. Our Founder, Jessica Blackler, decided it was time she created a safe space studio so she could impart her expertise as a trained Makeup Artist in film and television. Adept at transforming a makeup wearer's features, her skills were widely appreciated within the community, and this educational safe space mentality can still be found in Jecca Blac's products and services today.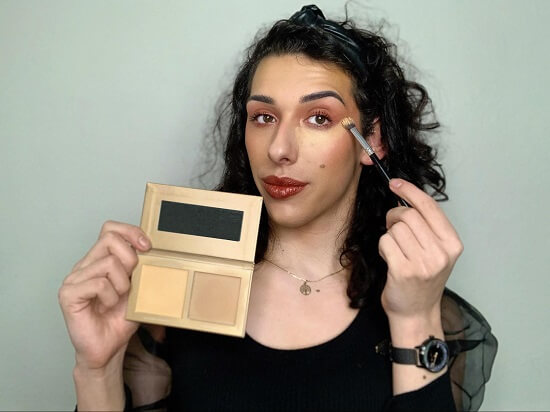 Pictured: Sharmila, one of Jecca Blac's Brand Ambassadors. Click here to watch her tutorial, where she shows you how she likes to contour using Jecca Blac's Sculpt & Soften Palette.
When contouring, you have two shades to work with: one for highlighting (i.e. bringing things forward) and one for contouring (i.e. setting back/adding shadow to). On faces with features deemed traditionally masculine vs traditionally feminine, light and shadows are cast on the face in different ways. Through applying a highlight and a contour, you can manipulate the appearance of shadows and light on the face, thus transforming your features.
To start, we recommend completing your base makeup. It is best to begin with a base that's ready for long lasting coverage, so after completing your skincare, be sure to apply a primer such as our Blur & Matte Primer. This Primer blurs and smooths any uneven skin texture, including pores, fine lines and beard shadow. Following this step, apply your concealer for any beard coverage (such as our award winning Correct & Conceal Palette – a two step concealer solution for beard shadow) and any Foundation if you prefer a full coverage look. Once these steps of your base makeup are complete, it is time to move onto the fun part – contouring!
Contouring has often been viewed with a one-method-fits-all approach. However, we know contouring is something that is special and unique to each makeup wearer's features and desired results. While it can be overwhelming at the start to know where to begin, we have made contouring simple with our Sculpt & Soften Palette. It comes with a 34 page guide packed with diagrams and advice to help you build a contouring regime tailored specifically to your desired look/areas you'd like to transform. With a cream consistency, our Sculpt & Soften Palette was designed to be buildable, blendable, and to provide you with a seamless, skin-like finish.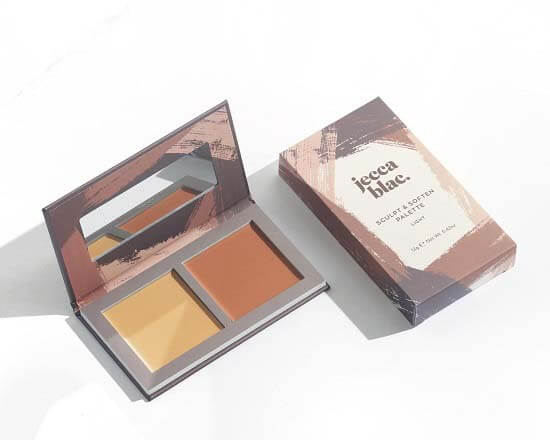 Upon opening the Sculpt & Soften Palette, you'll see two shades: 'Soften' for highlighting, and shade 'Sculpt' for contouring. In order to achieve a natural looking contour, we recommend first standing in front of a mirror with natural daylight. Pay attention to where the shadows fall naturally on your face. We believe personal preference is best to follow when it comes to any areas you'd like to exaggerate or soften, so think about what you're looking to gain from this. If you're looking to enhance your cheekbones, contour just under the cheekbone – from the tragus to the side of the lips. Start with a little of shade 'Sculpt' and map out the area you'd like to deepen. Once this is symmetrical on both sides, you can blend it out using a beauty sponge – but be sure not to spread the contour too far outside of the line you have created. Start with a small amount of product and build up.
Once this line is blended out, you can add a little 'Soften' (the highlight shade) above and below the line. Again, you can blend this out using a beauty sponge. This same method of mapping out using the 'Sculpt' shade and following with the 'Soften' shade can be applied to contour any other areas on the face. Be sure to only start with a little product at a time, and give yourself time to practice at home. Building a routine that's right for you can take time, so be patient with yourself and remember practice makes perfect!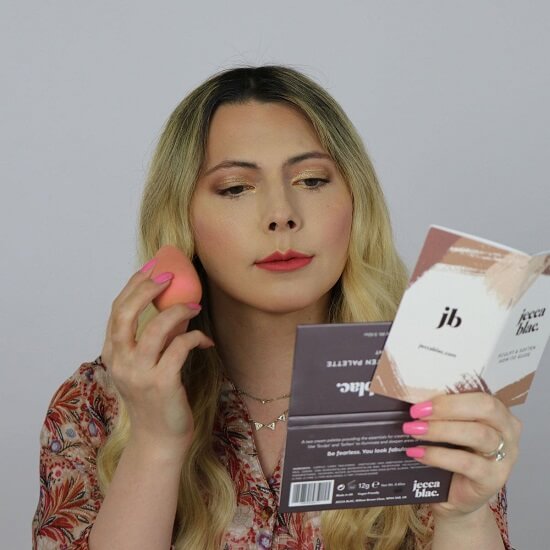 Pictured: Casey Blake. Click here to watch her YouTube tutorial featuring Jecca Blac's products, where she shows you how she likes to contour using the Sculpt & Soften Palette.
Other areas people wishing to feminize with makeup often target are the brow bone and the forehead. To shorten the forehead, you can apply some 'Sculpt' to where the brow bone protrudes on many faces. This will help push it back and will help draw attention to other areas of the face.
Be patient, take your time, and watch tutorials created by makeup wearers also wishing to feminize with makeup products. Our guide with the Sculpt & Soften Palette is there to help you build a regime tailored specifically to your needs, so enjoy the journey of getting to where you'd like to be with your makeup regime and trust in the learning process!
For more information on Jecca Blac, visit https://jeccablac.com
For FREE MAKEUP ADVICE, click here and receive expertise from our team of makeup professionals.
You can also find tutorials, community content and more at our Youtube Channel – click here and don't forget to subscribe!