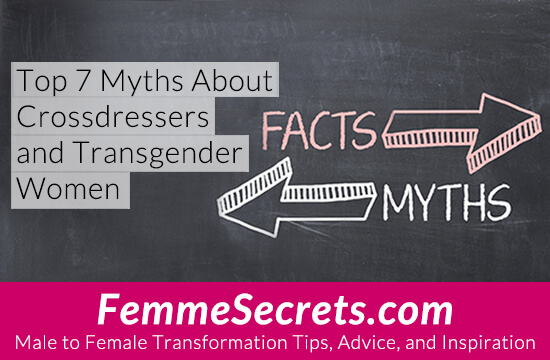 Do you ever feel misunderstood?
Sadly, there's a lot of ignorance out there. That's why I decided it's time to debunk the most common myths about crossdressers and transgender women.
Let's start with one of the BIGGEST myths of all:
Transgender women, crossdressers, and drag queens are all the same.
Uh, NO.
I created this site to be a welcoming place for transgender women, crossdressers, and anybody in between. But I think we all know that these are distinct groups and that the terms aren't interchangeable.
Here's how the GLAAD Media Reference Guide defines these terms:
Transgender women – People who were assigned male at birth but who identify as women. Many transgender women are prescribed hormones or undergo surgery, but transgender identity is not dependent upon medical procedures.
Crossdressers – Men, typically heterosexual men, who occasionally wear clothes, makeup, and accessories associated with women. This activity is a form of gender expression and is not done for entertainment purposes. Crossdressers do not wish to permanently change their sex or live full-time as women.
Drag queens – Men, typically gay men, who dress like women for the purpose of entertainment.
Now that the record has been set straight, let's take a look at the top myths for transgender women and the top myths for crossdressers.
Top 7 Transgender Myths
Being transgender is a choice.
Transgender people are gay.
Transgender women aren't "real" women.
Your sex is defined by your chromosomes and/or hormones.
You have to have surgery to be a "real" transgender person.
You aren't transgender until you start HRT.
Kids and teens are too young to know if they're really transgender.
Top 7 Crossdressing Myths
Crossdressers are gay.
Crossdressers are perverts.
Crossdressing is a psychological problem.
Crossdressing can be cured.
Crossdressers want to change their sex.
Crossdressing is a destructive addiction.
Crossdressers can't be good husbands or fathers.
You and I both know that these hurtful myths aren't true. Now it's time for the rest of the world to wake up!
Your gender is who you are on the inside, and there are infinite gender expressions.
Are you listening, world?
Now let's hear from you…
What's the truth that YOU'D like to set straight? Let's continue the conversation in the comments below!
Love,
Lucille