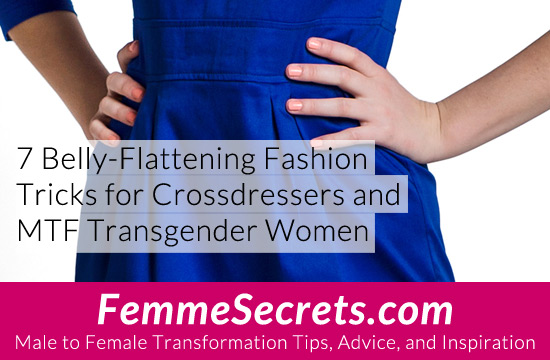 A slim waist is an important symbol of feminine beauty.
So does that mean all hope is lost if your tummy is your trouble spot?
Absolutely not, girlfriend!
Keep reading to discover 7 belly-flattening fashion tricks for crossdressers and MTF transgender women:
Trick #1: Wear a shaping camisole
Corsets and girdles will certainly pull you in, but they're not very comfortable for daily wear.
Instead, wear a shaping camisole under your clothes. It's a wonderful alternative for trimming inches from your waist and belly – while still allowing you to breath.
Trick #2: Try a tummy-minimizing peplum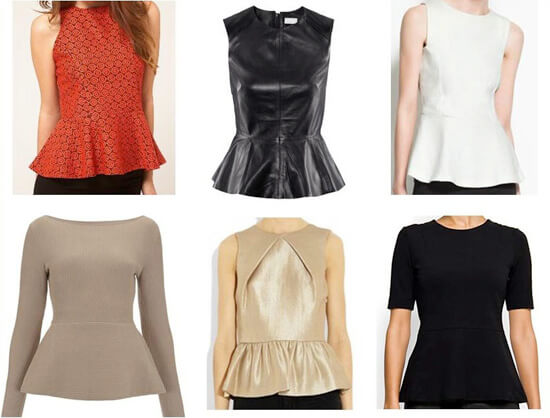 Peplums are very "in" right now and they're a fabulous style for crossdressers and MTF transgender women.
A peplum is a short overskirt attached at the waistline of a top, dress, or jacket that's perfect for covering a full belly. And thanks to the fit-and-flare styling, a peplum will also give you a sexy hourglass shape.
Trick #3: Avoid bottoms that sit too far above or below your waistline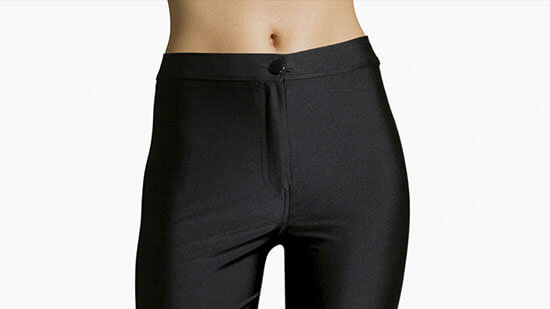 If you have a big belly, the waistband of your skirt or pants should sit just below your belly button.
If the waistband is too high, it'll look like your stomach is popping out below. If the waistband is too low, you'll get the "muffin top" look.
Trick #4: Wear a light colored jacket over a dark top
Wearing a light colored jacket over a dark top is a great way to downplay an ample tummy. The jacket conceals excess poundage while the dark color underneath makes your belly recede into the background.
For the best results, look for a jacket with some shape. Princess seams are especially feminine and flattering.
Trick #5: Just say "no" to tight clothes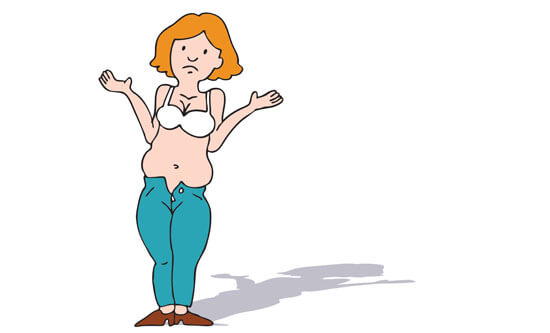 If your belly is your trouble spot, you should obviously avoid wearing tight clothes.
Clothes that are too tight (including bras and panties) will dig in and create unsightly bulges – calling even more attention to the area.
Trick #6: Downplay belly rolls with a ruched top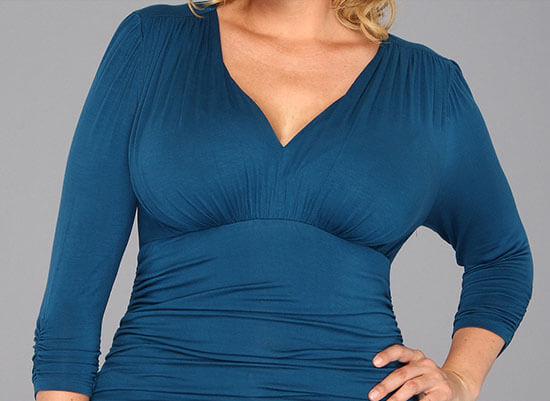 Ruching (i.e. fabric that's gathered along the seam line) is perfect for concealing an ample belly.
Unlike "flat" fabrics that reveal every bulge, ruching hides what's underneath – including those dreaded belly rolls.
Trick #7: Avoid oversized clothes
A lot of people make the mistake of trying to hide a big belly under oversized tops. But all this does is make you look even bigger.
Instead, look for clothes that skim – rather than drown – your midsection.
Now that you know how to deal with the most common problem area for crossdressers and MTF transgender women, let's focus on the positive …
Namely, your assets!
My next blog post will reveal how to highlight your assets. But for now, I'd like to do an informal survey:
Which body part is your BEST feminine asset?
Please take my poll and leave me your comments below!
Love,
Lucille

Loading ...
Related Posts