Hi Everyone!
Today's blog is brought to you by gender free, vegan makeup brand Jecca Blac!
At Jecca Blac, we consider ourselves experts when it comes to male to female makeup transformations. We're going to take you through how to find the right shades for eyeshadow looks, and how to make the most of fun pigments that will be sure to add a pop of colour when completing your look. Our aim today is to help you find your own flare when it comes to bringing your look together – each of us has a unique sense of style, and this can be realised by experimenting with different colours in your makeup regime!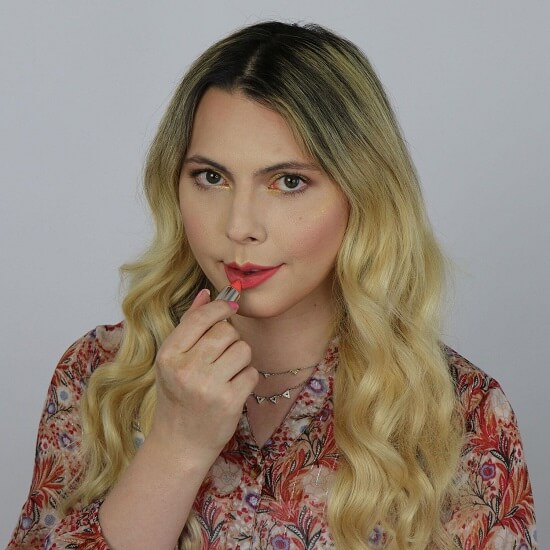 Pictured: Casey Blake with our Long Lasting Lipstick shade Qween!
Click here to watch Casey Blake's YouTube tutorial featuring Jecca Blac products, where you'll see her showing how she likes to express herself with playful colours and pigments! 
There are many different ways to add finishing touches to your look. Makeup often begins with building the right base – and this can range from makeup to cover beard shadow to highlighting and contouring to transform and feminize your features. Once you are happy with your base makeup, the real fun begins: colour!
Think of colourful makeup (such as eye shadows and lipsticks) as the accessories of your makeup look. You have a great opportunity to dress your look up or tone it down, so first think about your mood that you're looking to channel, and how glam you're feeling for your occasion (even if the occasion involves staying home!) If you're feeling like keeping it lowkey, start with something soft and neutral, such as our Red Touch Play Pot (pictured below).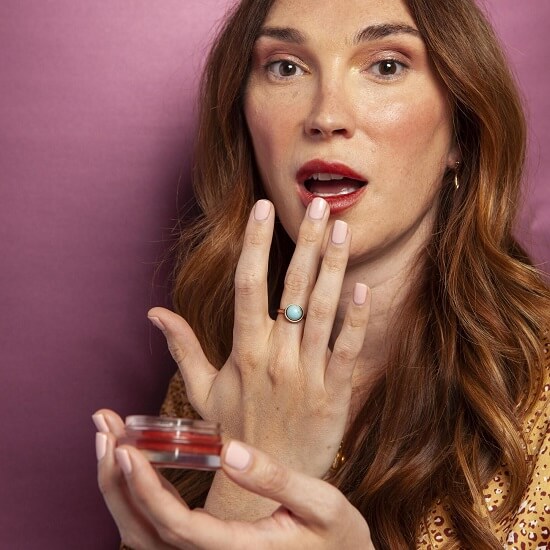 Our Play Pots are cream based pigments for the eyes, cheeks AND lips. In this one product, you can find new and exciting ways to add playful shimmers and colours in the form of a cream eye shadow, lip tint or blush. We love red touch as a simple day to day solution for adding a wash of pigment to anywhere you feel like! Pat the product onto your eyes, cheeks or lips using your fingertips, and then blend away to leave behind a seamless wash of colour. This will help brighten your complexion and give an overall appearance of wellness, which can sometimes be more difficult to achieve if you favour a full coverage look. You can keep it simple by wearing one shade from our Play Pot collection all over, or get creative by mixing and matching.
When applying to the eye area, to ensure staying power you can apply an eyeshadow primer before applying your Play Pot, and feel free to add a powder shadow of your choice on top if you wish to experiment by layering pigments!
Cream formulas are best to work with when selecting ways to add colour to the face, as they are easy to blend and leave a natural, skin like finish that won't look cakey on the surface of the skin. When selecting colours to work with, as well as paying attention to your mood and if there's a special occasion, it is important to remember that there are no set rules on the perfect way to express yourself with makeup. We champion makeup wearers who are up for some creativity and stepping out of their comfort zone with new and exciting possibilities!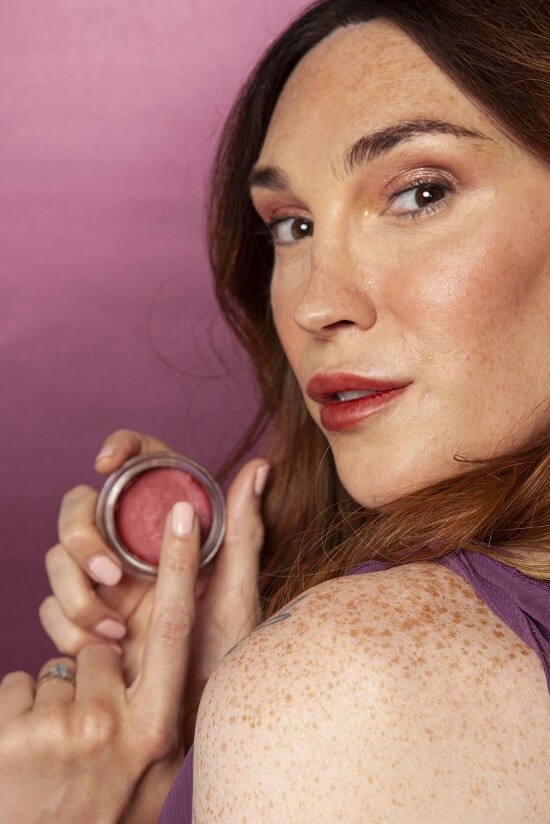 Pictures: Juno Dawson in Play Pot shades Gold Touch (applied to her eyes and cheekbones), Red Touch (applied to Juno's lips as a lip tint) and Pink Pearl (applied as a shimmery blush to Juno's cheeks, and a little on the eyelids too!)
With Juno's look, we went for a subtle daytime glam. This could certainly be elevated or adapted for something more dramatic with the help of an eyeliner of your choice, and maybe some lashes! When it comes to eyeliner, start by using a kohl pencil of your choice and use an eyeshadow makeup brush to smudge out any harsh lines. Liquid liners are great for getting creative with and can totally transform the appearance of an eye shape, but if you're just starting out with pencils, ease yourself in by beginning with a kohl and practicing with smoking out the kohl til you find a shape that make you feel confident and fabulous.
If you prefer a more dramatic lip, we recommend a long lasting matte lipstick. Available in 4 shades, our Long Lasting Lipstick Collection was developed with makeup wearers in mind who love maximum colour payoff with strong staying power. Simply apply straight from the tube, or use a lipstick brush to paint on the colour. We offer Long Lasting Lipsticks in 4 unapologetic shades:
Life On The Rainbow (a staple red colour, perfect for day to night!)
Play Nude (a simple nude colour, which we think looks amazing when paired with a dramatic eye look!)
Qween (a bold coral shade, as shown below on Casey Blake – perfect for springtime!)
URU (a statement pink colour!)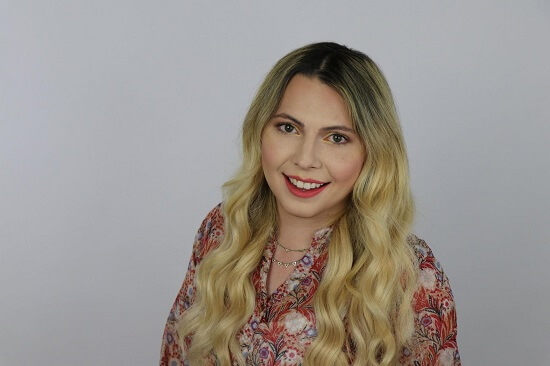 Finding the way you most enjoy adding a pop of colour takes time, and remember there's no race to get to the finish line when it comes to perfect a look suited to your unique needs and desired result. Practice makes perfect, so take all the time you need – and never be afraid to experiment or step out of your comfort zone! As we always say, be fearless – you look fabulous.
Looking for any makeup help?
We offer a free makeup advice service – click here to start the process by submitting a photo of yourself and let us know what you're looking to learn about!
For more information on Jecca Blac, visit https://us.jeccablac.com
For FREE MAKEUP ADVICE, click here and receive expertise from our team of makeup professionals.
You can also find tutorials, community content and more at our Youtube Channel – click here to visit our channel and don't forget to subscribe!