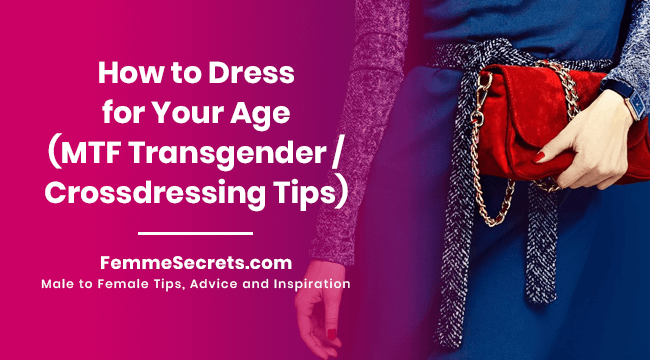 You are never too young or too old to express your feminine self.
But that doesn't mean you should ignore your age!
Dressing inappropriately for your age is a sure way to draw unwanted attention to yourself.
The good news is that you can look feminine, beautiful, and sexy at ANY age.
Here are some tips – specifically for crossdressers and transgender women – on how to dress age-appropriately for every decade of life.
Your 20s or Younger
20s or Younger: Style Inspiration
| | | |
| --- | --- | --- |
| | | |
| Jazz Jennings | Gigi Gorgeous | Andreja Pejic |
20s: Style Tips
Your 20s are a time to play with trends and be adventurous. You're still discovering your style, so take risks and have fun!
You're not a kid anymore, so avoid adolescent details like glitter, rhinestones, or cartoony prints.
You can get away with short skirts and body-baring styles, but be careful not to cross the line from sexy to slutty. Good taste is a fashion DO at any age.
Your 30s
30s: Style Inspiration
| | | |
| --- | --- | --- |
| | | |
| Laverne Cox | Janet Mock | Jenna Talackova |
30s: Style Tips
Your 30s are the time to start letting go of your wild past. You can still have fun, but now's the time to add a touch of sophistication to your look.
Dress less casually than you did in your 20s and stop shopping in the junior's department.
This is the perfect time to start building a wardrobe of classics while continuing to play with trendy items.
Your 40s
40s: Style Inspiration
| | | |
| --- | --- | --- |
| | | |
| Candis Cayne | Jennifer Aniston | Victoria Beckham |
40s: Style Tips
40 is the new 30! However, that doesn't mean you should dress exactly like someone 10 years younger than you.
This is the age to start thinking about dressing in more tailored styles. Consider classic, clean shapes in bold colors or prints for added impact.
Go for simplicity rather than complicated details. From now on, your look should be clean, classy and sophisticated.
There's no reason to turn down your sex appeal once you hit 40. But instead of baring it all, show off one part of your body and keep the rest covered.
Your 50s
50s: Style Inspiration
| | | |
| --- | --- | --- |
| | | |
| Salma Hayek | Halle Berry | Sandra Bullock |
50s: Style Tips
Now's the time to start highlighting your face instead of your body.
Classic styles and modest cuts are your best friends.
It's especially important to wear clothes that fit well. Choose tailored styles that skim your body instead of clinging.
As you get older, your clothes should get simpler. But simple doesn't have to mean boring! Accessorize with bold jewelry, gorgeous bags, and great shoes.
Your 60s and Beyond
60s and Beyond: Style Inspiration
| | | |
| --- | --- | --- |
| | | |
| Caitlyn Jenner | Diane Von Furstenberg | Susan Sarandon |
60s and Beyond: Style Tips
By now you know yourself well and are past trying to look like a 30-year-old.
Much like a woman in her 50s, it's best to stick to the classics, with lots of interesting jewelry and other accessories to liven up your face and wardrobe.
Invest in good quality shoes, handbags, and jewelry so you can enjoy them through this decade and beyond.
No matter how far past 60 you are, you NEVER have to dress in frumpy old lady clothes!
NOW is the perfect time to be your best femme self!
The most important thing to know is that you can look beautiful and feminine at any age. NOW is the perfect time to be your best femme self, so let's celebrate your journey!
On that note, I'd love to hear from you…
What do you LOVE most about being your current age?
Please take my poll and share in the comments below!
Love,
Lucille
P.S. If you liked this article, you will LOVE my free 3-part Male to Female Makeover Course. Click here to sign up now!

Loading ...